Built by developers, for developers
NodeCDN was built by the developers behind the custom built game server control panel at NodeCraft Hosting LLC. The features we've built into NodeCDN put developers first, and end users second.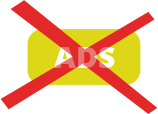 Ad free, with no distractions
Nothing is more frustrating than being forced to wait for your downloads. We vow to never put ads on our CDN, or any of it's pages that would otherwise subtract from the simply experience behind downloading files.

Did we mention it's free?
We serve content from our CDN powered by our loyal customers at our game server hosting service. We feel like so many game developers extend our product for free, and we'd like to return the favor!